Ensuring Adequate Landscaping Drainage For Mobile Properties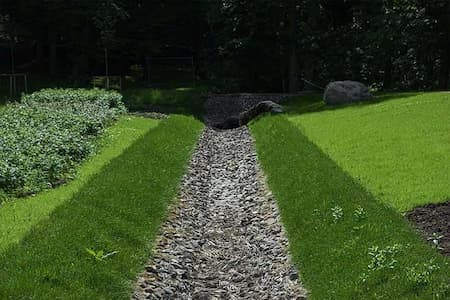 Construct a dry and healthy Mobile landscape with our expert drainage solutions. Our comprehensive landscaping for Mobile and drainage planning services are tailored to meet your specific needs, ensuring a well-maintained and functional outdoor space.
Landscape Drainage Planning
We're dedicated to providing effective drainage solutions that prevent water accumulation and potential damage. Effective landscape drainage begins with a thoughtful assessment of your property's unique features and characteristics to design a drainage system that directs water away from critical areas. Whether it's sloping terrain or poor soil drainage, we have the expertise to tackle any challenge.
Erosion Control
Erosion can wreak havoc on your landscape. Our erosion control strategies include the installation of retaining walls, terraces, and strategically placed vegetation to stabilize soil and prevent erosion.
French Drains Installation
French drains are an efficient solution to redirect excess water. We install these drains beneath the surface, allowing water to flow away from your property, and preventing waterlogging and potential damage.
Frequently Asked Drainage Questions
You can take a look at the frequently asked questions we get from our clientele about our services. The most common questions we get are listed below with detailed answers to give you the insight you need. If you have further concerns or a question that isn't answered below, feel free to contact us and we'll be sure to help you out!
If your property experiences water accumulation, poor soil drainage, or erosion issues, drainage planning is essential. Our experts can assess your landscape and recommend tailored solutions.
While some DIY solutions might provide temporary relief, professional drainage planning ensures a comprehensive and long-lasting solution that considers all factors affecting your landscape.
Erosion control measures prevent soil erosion caused by excess water flow. This not only protects your landscape but also prevents potential damage to structures.
A French drain is a trench filled with gravel or rock that redirects water away from your property's foundation. It works by allowing water to seep through the gravel and flow away.
Book A Service With Us
With commercial landscaping, keep the lawn, trees, and bushes neatly trimmed and make sure your grounds and pathways remain clear of common safety hazards. We'll be there to manage and improve the landscape so you can spend your valuable time managing your business.
Don't Let Your Property Look Tragic, Call Green Magic Landscape!
Reach Out to Our

Mobile

Landscaping & Lawn Care Specialists


Today for a Quote Today!
Don't Let Your Property Look Tragic

Call Green Magic Landscape!

Reach Out to Our Mobile

Landscaping & Lawn Care Specialists

Today for a Quote Today!