Lawn Care And Mowing To Help Business Property Owners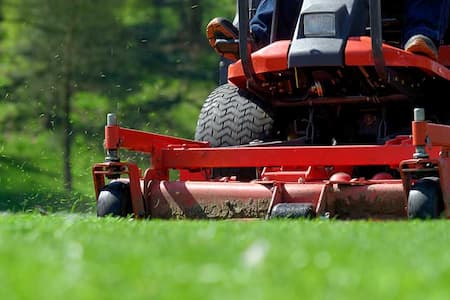 Achieve the perfect lawn with exceptional lawn care solutions for business property owners in Mobile. When you get our services landscaping for Mobile, you can rest assured that your lawn care will get the best possible treatment.
One-Time Or Recurring Grass Cutting Services
Whether you need a one-time lawn makeover or ongoing maintenance, our grass-cutting services are tailored to your needs. We offer flexible lawn care scheduling to ensure your lawn always looks its best.
Lawn Fertilization
Nourish your lawn for optimal growth with our professional lawn fertilization services. Our lawn care experts analyze your lawn's needs and apply the right nutrients for a lush and healthy landscape.
Weed Control
Combat unwanted weeds that can mar the beauty of your lawn. Our weed control services ensure your grass remains weed-free and thrives in a pristine environment.
Aeration
Promote strong root growth and prevent soil compaction with our aeration services. This process enhances water and nutrient absorption, leading to a healthier and more robust lawn.
Lawn Disease Prevention
Protect your lawn from diseases with our proactive lawn care measures. Our team identifies potential issues and implements preventive measures to keep your grass vibrant and disease-free.
Lawn Care Tips
Our lawn care experts share valuable tips on maintaining a beautiful lawn. From proper mowing techniques to watering guidelines, we empower you to contribute to the health of your landscape.
Frequently Asked Lawn Care Questions
You can take a look at the frequently asked lawn care questions we get from our clientele about our services. The most common questions we get are listed below with detailed answers to give you the insight you need. If you have further concerns or a question that isn't answered below, feel free to contact us and we'll be sure to help you out!
For most lawns, a weekly mowing schedule is ideal when it comes to basic lawn care. However, the frequency can vary based on factors like grass type and weather conditions. You should pay attention to your soil and manage with sodding as lack of nutrients can also affect your lawn's growth.
Aeration allows air, water, and nutrients to reach grass roots, fostering healthy growth and enhancing overall lawn resilience. Ground that becomes too packed can't absorb nutrients as well and becomes difficult to grow in.
While DIY lawn care is possible, professional services ensure proper nutrient balance and application for optimal results. Having an expert on hand allows you to find out the best nutrients for your yard.
Regular mowing, proper watering, and professional weed control services are key to preventing weed growth in your lawn. Weeds are tough so the best way to prevent them in general is to maintain regular lawn care maintenance.
Don't Let Your Property Look Tragic, Call Green Magic Landscape!
Reach Out to Our

Mobile

Landscaping & Lawn Care Specialists


Today for a Quote Today!
Don't Let Your Property Look Tragic

Call Green Magic Landscape!

Reach Out to Our Mobile

Landscaping & Lawn Care Specialists

Today for a Quote Today!